Description
This product is a high data rate active optical cable (AOC), to overcome the bandwidth limitation of traditional copper cable, supporting 25.78Gbps at both electrical ends. The SFP-25G AOC assembly is a high performance integrated duplex serial data link for bi-directional communications. Physically, it is constructed out of a pair of SFP-25G terminations connected by a cable. The terminations contain the electrical connectors, the signal conditioning devices and the Physical Medium Dependent devices that are needed to ensure proper transmission across the chosen cable. The SFP-25G AOC converts 25Gbps serial PECL/CML electrical compliant with CEI-28G-VSR. An open collector compatible Transmit Disable (TX_Dis) is provided. An open collector compatible Transmit Fault (TX_Fault) is provided. TX_Fault is module output contact that when high, indicates that the module transmitter has detected a fault condition related to laser operation or safety. TX_Disable is a module input contact. When TX_Disable is asserted high or left open, the SFP+ module transmitter output shall be turned off. The receiver converts serial optical data into serial PECL/CML electrical data. An open collector compatible Loss of Signal is provided. The RX_LOS contact is an open drain/collector output and shall be pulled up to Vcc_Host in the host. The RX_LOS signal is intended as a preliminary indication to the host system in which the SFP+ is installed that the received signal strength is below certain range.

Features
l SFF-8432 Mechanical MSA

l 25G 850nm VCSEL transmitter
l 25G PIN photo-detector
l Up to 70m/100m by active optical cable with OM3/OM4 fiber
l Single 3.3V power supply, Low power consumption
l 0 to 70°C case temperature operating range
l RoHS-6 compliant (lead-free)
l Pre-terminated fiber cable
l 25G electrical interface (OIF CEI-28G-VSR)
l 2-wire interface for integrated Digital Diagnostic monitoring
l Very low EMI and excellent ESD protection
Applications

l 25G Ethernet
l High capacity IO with SFP28 interface
l Data center and in-rack connection
Compliance
l Compliant with SFF-8431SFF-8436 QSFP Specification
l Compliant with FC-PI-6
Block Diagram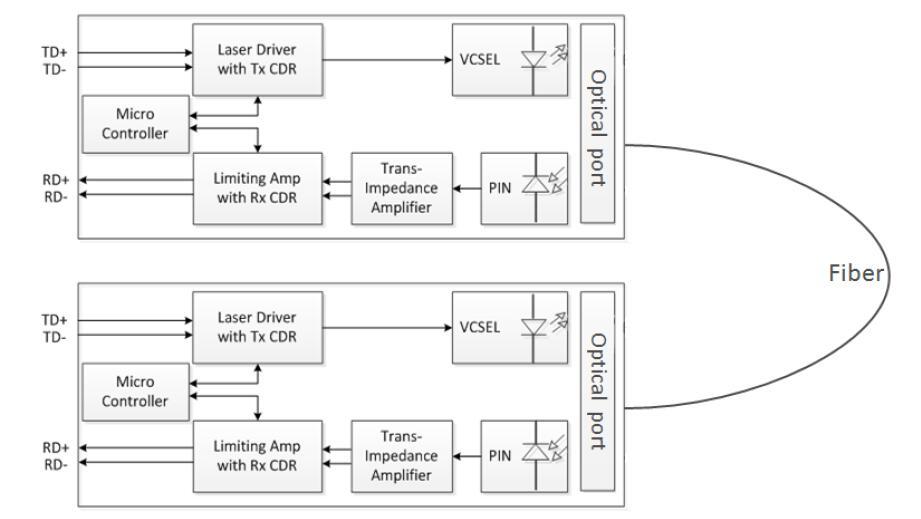 Figure 1. Function Block Diagram
Specification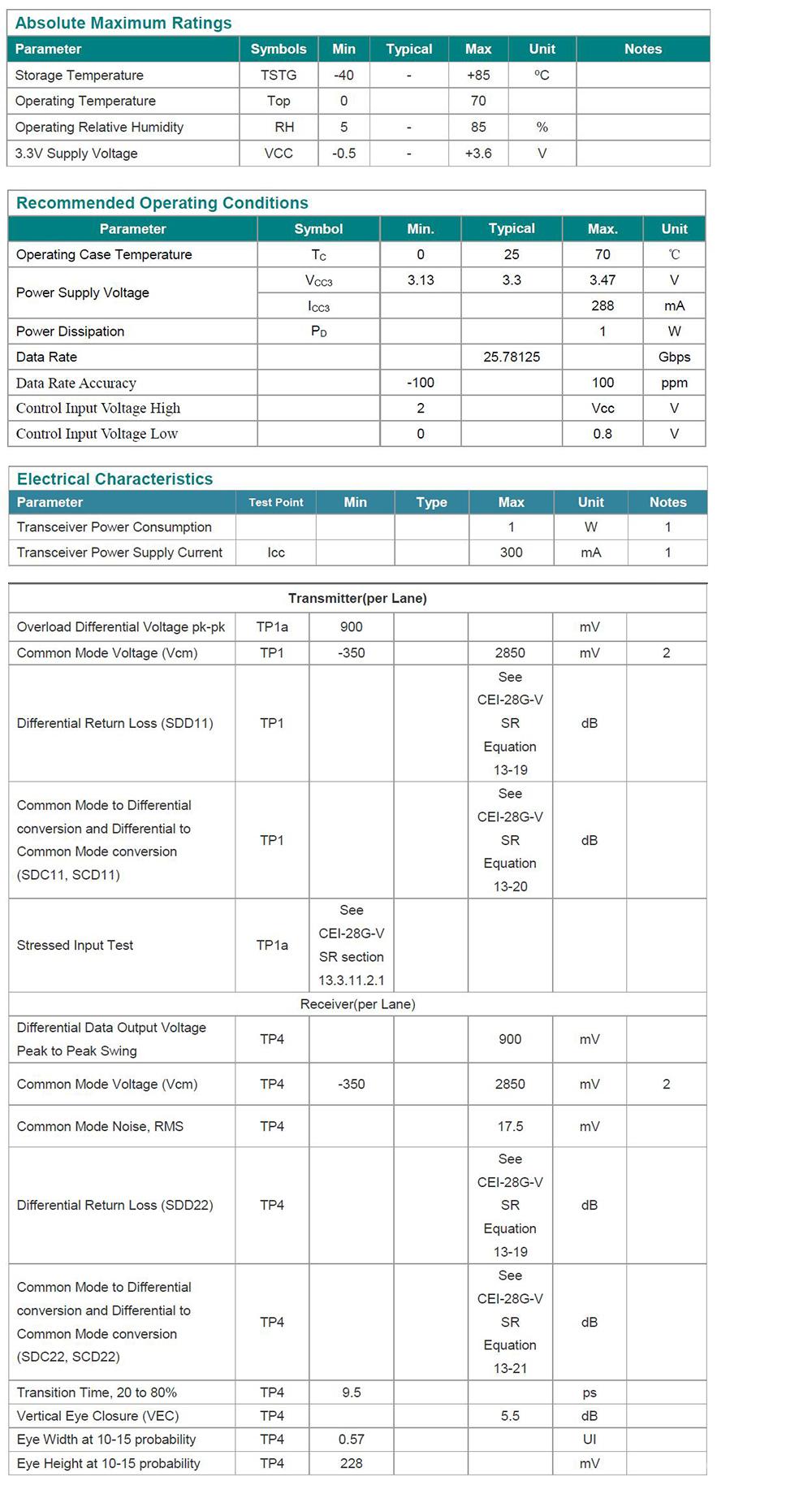 Notes:
1. Per terminal.
2. Vcm is generated by the host. Specification includes effects of ground offset voltage.
Pin Assignment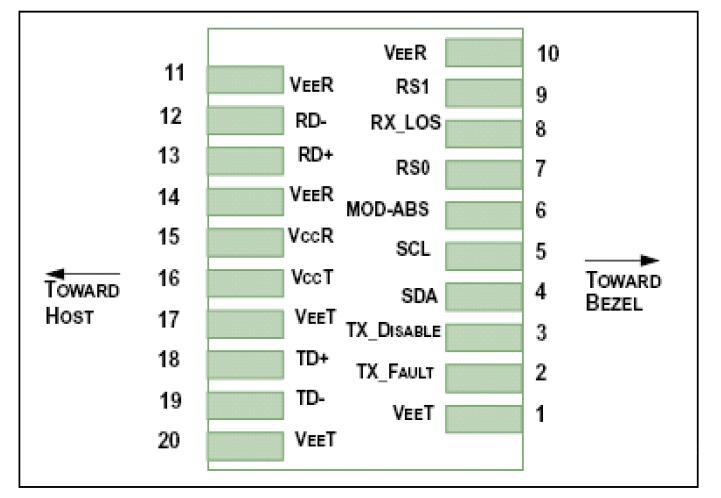 Figure 2 –Interface to Host
Notes:
1. The module signal ground pins, VeeR and VeeT, shall be isolated from the module case.
2.This pin is an open collector/drain output pin and shall be pulled up with 4.7k-10kohms to Host_Vcc on the host board. Pull ups can be connected to multiple power supplies, however the host board design shall ensure that no module pin has voltage exceeding module VccT/R + 0.5 V.
3. This pin is an open collector/drain input pin and shall be pulled up with 4.7k-10kohms to VccT in the module.
4. See sff-8431 4.2 2-wire Electrical Specifications.
5.This pin shall be pulled up with 4.7k-10kohms to Host_Vcc on the host board.
Recommended Interface Circuit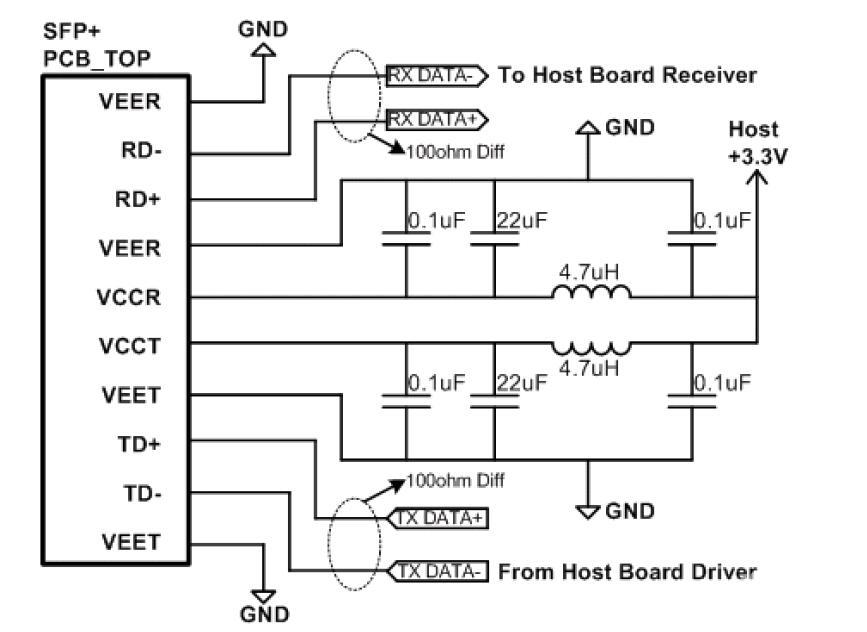 Figure3 Recommended Interface Circuit
Ordering Information

Note:
Where "xxx" denotes cable length in meters. Examples of cable length offered are as follows: xxx = 001 for 1m xxx = 005 for 5m xxx = 010 for 10m xxx = 015 for 15m xxx = 030 for 30m xxx = 050 for 50m
Caution
All adjustments have been done at the factory before the shipment of the devices. No maintenance and user serviceable part is required. Tampering with and modifying the performance of the device will result in voided product warranty.
Statement
HG Genuine possesses the authority for ultimate explanation of all information contained in this document, which is subject to change without prior notice. All the information was obtained in specific environments; and HG Genuine will not be responsible for verifying the products performance in customers' operating environments, neither liable for the performance of users' products. All information contained is only for the users' reference and shall not be considered as warranted characteristics. HG Genuine will not be liable for damages arising directly or indirectly from any use of the information contained in this document.